Mimasaka city
Highlight
Higashiawakura Area
BELL PEAL Natural Park / Mimasaka Fuji (Mt. Hinakura)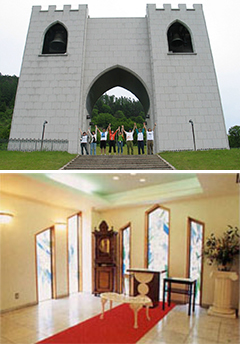 This natural park is located approximately 865 meters above sea level, halfway up Mt. Hinakura, which is also called Mimasaka Fuji. Visitors can see Mt. Hyonosen in Hyogo Prefecture, Mt. Nagi and the city of Tsuyama in the west, and Shodo Island in the south from this natural park. This park has a large arch-shaped bell tower that accommodates a swing bell with a diameter of 2 meters and a weight of 6 tons, named the Bell of Ruban Vert. The sound of the bell is heard in the green deep mountains.
*The bell tower is closed in winter (December through March).
The park also has a wedding hall named BELL PEAL Hall, which is a popular wedding spot surrounded by great nature. There is a tea parlor with a panoramic view on the second floor, where a menu is offered, which includes coffee brewed with "love water."
An area of approximately 10 hectares, where thatch plants grow in colonies, extends behind the bell tower. This area with colonies of thatch plants on Mt. Hinakura has been recognized as hometown forest cultural assets by the Agency for Cultural Affairs since March 2012.
Ruban Vert, as the name of the bell, means "green ribbon" in French. This bell is a bell of love, symbolizing the bonds of hearts, and existing to express each person's love to their partner, children, family, and friends.
Ohara Area
Musashi-no-Sato, Miyamoto Musashi's Birthplace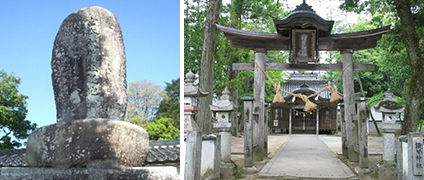 A monument in memory of Miyamoto Musashi, an expert Japanese swordsman, was erected here in 1911 because this place was confirmed to be Musashi's birthplace. The confirmation was made by Miyamoto Musashi Kenshokai (an association established in honor to Musashi) in Kumamoto Prefecture, where Musashi passed away.
Historical sites related to Musashi are in the vicinity, including the remains of the house where Musashi was born; Sanomo Shrine, where Musashi is said to have created his swordsmanship style of using two swords after seeing a Shinto priest's drumming; and the residence of Hirao, who married Musashi's elder sister.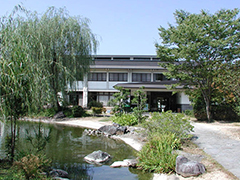 «Musashi-no-Sato Gorinbo»
Musashi-no-sato Gorinbo is a public inn located in Musashi's hometown. It is popular for general visitors, and also for group visitors who use the accommodations for a training camp.
The cuisine of every season is very popular. Each chef prepares it in an elaborate way by using local seasonal ingredients, such as matsutake mushrooms. People can use the facilities only for meals and spend a relaxing time without staying overnight. (A reservation is required).
«Musashi-no-Sato Rakuichi Rakuza»
This is a specialty store adjacent to Musashi-no-Sato. Miyamoto Musashi goods are sold here, along with other special products. You can purchase various types of amulets, e.g., wooden amulets and winning amulets, issued by Musashi Shrine and Sanomo Shrine.
Data
Location: 94 Miyamoto, Mimasaka-shi, Okayama 707-0415
Access: 5-minute walk from Chizu Express Miyamoto Musashi Station and 7-minute taxi ride from Chizu Express Ohara Station
Official website: http://musashi.city.mimasaka.lg.jp (in Japanese)
Streets of Furumachi (Ohara-shuku on Old Inaba-kaido Road)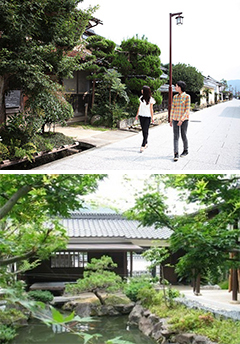 The old Inaba-kaido Road from Tottori (formerly called Inaba Province) to Himeji (formerly called Harima Province) was used for economic development, culture exchange, politics, and sometimes militarily. The ruins of Honjin (a feudal lord's lodging) and Waki Honjin (a subsidiary inn) remain in the center of Furumachi, a town developed as a post-station town in the past. It has been said that Emperor Godaigo used this road when he returned to Kyoto from Mt. Senjo in Tottori. The town, mainly composed of traditional townhouses of the late Edo period to the Meiji and Taisho periods, still maintains a townscape of a post-station town on the old Inaba-kaido Road that played a historically important role. In 1986, Okayama Prefecture designated the town as a townscape preservation district. It takes approximately 5 minutes by car to get here from Musashi-no-Sato, where historical spots related to Musashi are dotted.
Ohara Honjin
Ohara Honjin is a building where Lord Ikeda of the Tottori Domain stayed when he traveled between Tottori and Edo (presently Tokyo) via the old Inaba-kaido Road.
It is rare that the Lord's accommodations in Sukiya style and the gate are still kept up and the appearance of Honjin as of approximately 200 years ago is maintained.
Waki Honjin
Waki Honjin was a secondary inn used by chief retainers and magistrates when federal lords and senior vassals of the Tokugawa shogunate stayed at Honjin. Waki Honjin has a main building in townhouse style (approximately 13.6 meters high at the ridge, and 10 meters wide), entrance, Nagayamon (a gate approximately 17.3 meters high at the ridge, and 2.7 meters wide), garden pond, and a storehouse with earthen walls.
Data
Location: Furumachi, Mimasaka-shi, Okayama
Access: 5-minute walk from Chizu Express Ohara Station
Sakuto Area
Daishoji Temple (Vegetarian Food and More)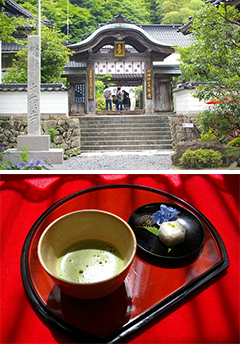 It is said that this historic temple was opened by Emperor Shomu's order in 738, and is the 13th temple of the Sanyo Hananotera Pilgrimage of 24 temples. Hydrangeas are planted in the shape of the kanji character for "heart" in the precincts surrounded by seasonal flowers, where visitors can leisurely walk on the promenade. Visitors can see the statue of Ragaraja (esoteric school deity of love) in the priests' living quarters that were built 400 years ago, as well as its stunning Japanese garden, the rooms used by the feudal lord of the domain, and the palanquin of an imperial messenger from the Kyoto Imperial Palace. You will be able to have Mitera cuisine if you make a reservation and experience the copying of the sutras. Two large ginkgo trees, which became a model of a Millennium cedar that appeared in the novel Miyamoto Musashi, stand in front of the temple gate. Many people visit the temple during its Hydrangea Star Festival period, which starts in mid-June.
Each visitor is required to pay an admission fee of 500 yen (which includes Japanese green tea and confectionery served), and a parking lot charge of 500 yen if visiting by car, during the Hydrangea Star Festival period.
Data
Location: 1 Daishoji, Mimasaka-shi, Okayama 709-4213
Access: 20-minute taxi ride from Chizu Express Sayo Station (JR Sayo Station)
Official website: http://daisyouji.or.jp (in Japanese)
Awai Kasuga Kabuki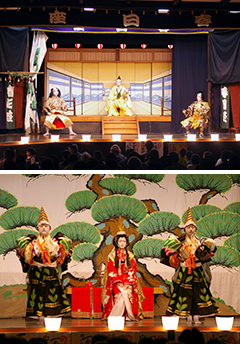 Awai Kasuga Kabuki is a classical Japanese dance-drama that has been passed down from generation to generation in the Awai district of Mimasaka (former Sakuto-cho) since the Edo period. Originally, Awai Kasuga Kabuki was dedicated to the autumn festival of Kasuga Shrine in its precincts. Awai Kasuga Kabuki has been designated as Mimasaka's Important Intangible Folk Cultural Property, and Awai Kasuga Kabuki is performed at the Kasugaza theater near Kasuga Shrine every October to coincide with the Autumn Festival of Kasuga Shrine.
Awai Kasuga Kabuki is also called jige shibai (literally, underground play), and is performed by local folks. Everyone is attracted to the spectacular performances of these actors who continue inheriting the traditional art that has been enjoyed as entertainment since long ago, their costumes, and tasteful stage. People from distant places, such as Okayama, Tokyo, and Osaka, visit here to see the stage performances.
Data
Kasugaza
Location: 315-1 Awainaka, Mimasaka-shi, Okayama 709-4205
Tel.: 0868-72-6693 (Mimasaka City Tourism Promotion Department)
Access: 20-minute taxi ride from Chizu Express Ohara Station
Mimasaka Area
Sea of Clouds (Mt. Oyama Observatory)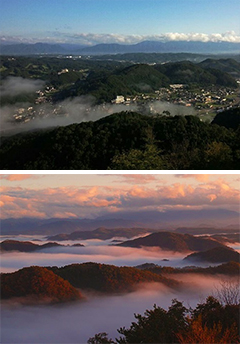 It takes five minutes by car to reach this observatory from the hot spring town of Yunogo. This is a viewing spot where visitors can see the hot spring town of Yunogo and the slow flow of the Yoshino River, as well as Mt. Ushiro, the highest mountain in Okayama Prefecture, Mt. Nagi, and the mountains in the Tsuyama Basin, far away. This observatory is a popular location where a sea of clouds can be seen early in the morning (between 6:30 and 8:00 AM) from October through February, on days when it is cold and sunny. A sea of clouds with a mysterious view spreads under your eyes halfway up the mountain path that is approximately 2.5 km to the summit. The observatory is also crowded with people seeing the sunrise on New Year's Day.
* The sea of clouds may not be seen if the weather is poor (on rainy or cloudy days).
Data
Location: 656-1 Kose, Mimasaka-shi, Okayama 707-0045
Access: 25-minute taxi ride from Hayashino Station on the JR Kishin Line
---
Experience
Higashiawakura Area
GG Farm (Gourmet Garden Guide)
* English and Hungarian spoken.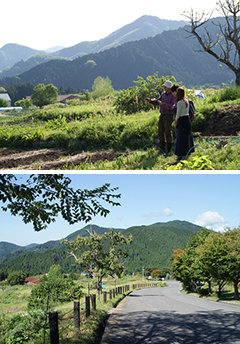 More than 200 kinds of multinational crops are grown here each year, and visitors are guided around the farm to see more than 30 kinds of crops in each season.
There are vegetables that can be eaten raw, which you can sample on the spot. It may be like a pictorial book of flora come to life, in which you can see, smell, and taste the vegetables. A wide range of people visit GG Farm: people who like cooking, people who love plants and nature, people who want to be engaged in farming, cooking researchers, agriculture researchers, herbalists, detoxification and flower remediation professionals, people who want to have a stimulating overseas farm-stay experience using English, and students studying cooking or agricultural and environmental problems. Furthermore, GG Farm adjusts the content of the guided tour according to visitors' requests.
A reservation is required. Contact GG Farm by telephone or through the application form on the website.
Data
Access: 20-minute taxi ride from Chizu Express Ohara Station
Official website: http://ggfarm.info (in Japanese and English)
---
Accommodations
Higashiawakura Area
Komanoo Sanso
When you go up a forest road while feeling the dynamic nature of Mt. Komanoo, you will find Komanoo Sanso, a Japanese-style inn, located at the foot of Mt. Komanoo. You can stay in an elegant pure Japanese-style inn, where a traditional Japanese seasonal meal will be served. You can experience an open‐air bath and forest bathing, and experience the authentic Japanese tea ceremony at the tearoom Senshinan. This is an adults' hideout where people can feel the wilderness close to them wherever they are, and enjoy tranquility away from the hustle and bustle while listening to birds singing and insects humming.
Data
Location: 1743-1 Ushiroyama, Mimasaka-shi, Okayama 707-0401
Access: 40-minute taxi ride from Chizu Express Ohara Station
Sakuto Area
Sakuto Valentine Hotel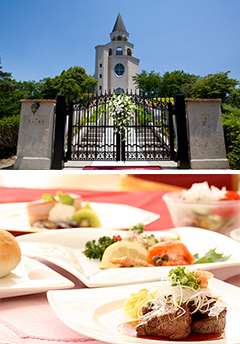 The Sakuto Valentine Hotel is located on a hill surrounded by rich nature inside Valentine Park, a place nominated as Sacred Place for Lovers in October 2007. The hotel's original unforgettable wedding service is gaining popularity. The service is limited to a single couple a day at its Towa Hall, a wedding hall where sunlight falls from the stained glass of the hall's window. The Sakuto Valentine Hotel is located on the highest hill in the area in an outstanding location. The hotel's guestrooms command the view of the Chugoku Mountain Range that changes from season to season and has a starry sky at night.
Inside the hotel exhibits cute watercolor paintings and lithographs works of the French artist Raymond Peynet. Furthermore, it has a restaurant where customers can enjoy French cuisine made from seasonal ingredients and a large public bath that commands a panoramic view.
The hotel has good access, and it takes 20 to 25 minutes by car to go city sightseeing, including Musashi-no-Sato and Yunogo Onsen, approximately 1 hour 20 minutes by car to Tottori, and approximately 1 hour 40 minutes by car to Kurashiki, Okayama. It is a perfect place for a peaceful mountain drive.
Every winter, the Valentine Hotel and Valentine Park are lit up with illumination and wrapped in a romantic atmosphere.
Data
Location: 993 Emi, Mimasakashi, Okayama 709-4234
Tel.: 0868-75-1115
Access: 40-minute walk from Mimasaka Emi Station on the JR Kishin Line
Official website: http://hotel-valentine.jp (in Japanese)
Mimasaka Area
Yunogo Onsen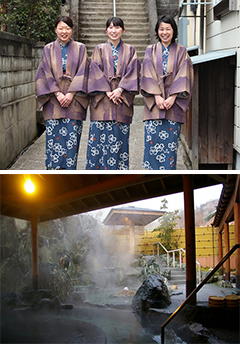 Yunogo Onsen is a hot spring resort representing Okayama Prefecture. Yunogo Onsen, Yubara Onsen, and Okutsu Onsen, all of which are located in the north of the prefecture, are called Mimasaka Santo (the Three Hot Springs of Mimasaka).
Legend has it that the Buddhist high priest Ennin saw a white heron rest in the water to heal its leg wounds. He took a closer look and discovered this natural hot spring. Yunogo Onsen also goes by the name Saginoyu (the Heron's Bath).
It is a chloride spring containing radium bubbles, at a temperature range of 40° to 43°at the gushing point, and the flow rate is 450 liters per minute. Yonogo Onsen is nicknamed Bijin-no-yu (hot spring of beauty) because its colorless and transparent hot water is reputed good for the skin.
Early in summer, this hot spring resort where fireflies dance is crowded with people, including sightseers, visitors hoping for a hot spring cure, and locals. These visitors can stay at approximately 15 large and small hotels, Japanese-style inns, and private homes that provide room and board nearby, ranging from accommodations with a lot of traditional Japanese atmosphere to modern accommodations.
There is a free footbath named Fureai-no-Yu in this hot spring town. Day trippers can also enjoy a cave bath and an open-air bath at the local hotel Yugozaki Onsenkan. Shioyu Shrine and Yu Shrine, where hot water gushes out, are located in the resort.
Furthermore, this hot spring town has been declared to be a Town of Toys, in addition to being known as a hot spring resort enjoyed by three generations. The town has multiple toy-related points of interest, including the Legend of Sanbu Taro (an automaton clock), the Anohi-no-Omochabako Showakan (a hall of retro goods), the Yunogo Onsen Tetsudo Mokeikan & Retro Omochakan, and the Japan Museum of Contemporary Toy & Hall of Music Boxes.
There are many workshops, including a place where visitors can experience glassblowing as well as ceramics, accessory making, and deerskin craft ateliers, offering plenty of sightseeing experiences.
Data
Location: Yunogo, Mimasaka-shi, Okayama
Access: 8-minute taxi ride from Hayashino Station on the JR Kishin Line
Official website: http://www.spa-yunogo.or.jp (in Japanese)